The 2018 PAX Mastery & Certification Program
Begins in January and is the LAST of its KIND...
Applications being accepted now
$500 Early Registration Discount
29ac
---
Do you LOVE our insights and information?
Are you PASSIONATE about contributing it to others?
Do you love to TEACH?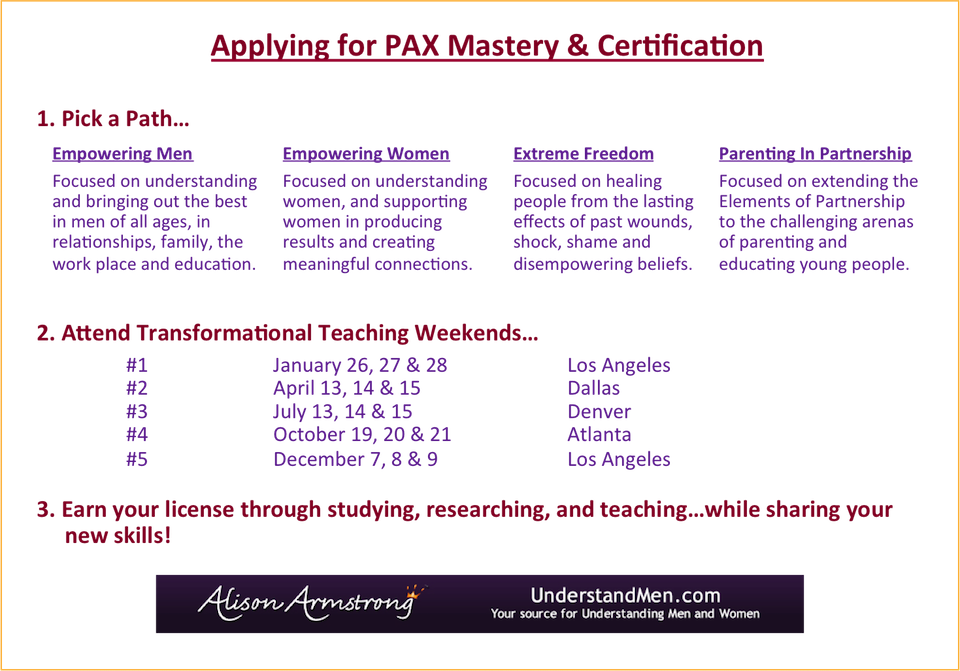 ---
What does Certification Mean?
Certification in your Mastery Topic Path, of the 2018 PAX Mastery & Certification Program, earns you the right to reproduce your Path's material, customized by you. This can be for your existing or emerging profession as a consultant, seminar leader, public speaker, therapist, teacher, administrator, coach, etc. You may produce and publish live presentations, audio programs, even write books or screenplays!
This is the last year PAX will be offering extensive permissions in licenses like these on our copyrighted material.
---
MASTERY TOPIC PATHS:
---
Questions about the 2018 PAX Mastery & Certification Program?
Alison's leading one-hour Question & Answer sessions for the 2018 PMC program. It's beneficial to read as much as you can on your choice of Mastery Topic Path, and then bring your questions to Alison's live call.
Follow the corresponding link to reserve your space in one of these conference call Q & A sessions:
Tuesday, September 5; 7:15 PM Pacific (8:15 PM Mountain, 9:15 PM Central, 10:15 PM Eastern)

Thursday, September 14: 12:00 PM Pacific (1:00 PM Mountain, 2:00 PM Central, 3:00 PM Eastern)

Wednesday, September 20; 5:00 PM Pacific (6:00 PM Mountain, 7:00 PM Central, 8:00 PM Eastern)

Wednesday, October 25; 6:00 PM Pacific (7:00 PM Mountain, 8:00 PM Central, 9:00 PM Eastern)
Have Questions about PMC but can't make these calls? Contact Adrienne Dworak at adrienne@understandmen.com or call Traci Campbell at 800-418-9924, ext. 851
---