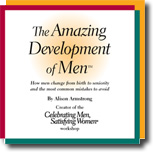 The Amazing Development of Men
™
A 50 Minute Audio Presentation on one CD
The Amazing Development of Men can change how you think about all of the men in your life. It will make an extraordinary difference in your relationships!
2462
---
Understand men, and the stages of their development.
Just as children grow and change in predictable stages, so do men. What men want to provide for women, and what they need to receive in return, changes significantly as men move from their teens, through maturity, and into seniority. These developments follow a predictable pattern that, once known and understood, makes sense of everything from workaholics to mid-life crisis.
Understanding men's stages of development will make you more effective in choosing suitable mates, having love and harmony, avoiding disappointment, and responding well to the changes in men, instead of being stressed out, left out, or just left behind.
---
"The Stages of Development are one of the first things I learned about men. Years later, they continue to provide healing, compassion and an end of suffering for both men and women. Listen, change your expectations, and be more effective with men — whether you are one or hope to love one."
Alison Armstrong
---
Amazing Development of Men
Product
Price - Buy More and Save!
Quantity
Order Now*